Describe techniquesto support prioritization of access to radio or network resources for specific services or
specific users (e.g., to allow access by emergency services).
Priority strategy mainly based on E-RAB QOS parameters and user's registration info in

UE's

RAB Assignment message and reference mapping priority, like BLP, PBR, Access priority, User selection priority, Congestion line-up priority, etc.

for

special services as EMC have the highest priority.
Priority profiles input parameters includes:
eNB
divides its mapping priority in logical channel Priority, Basic Priority, Access Priority, Line-up Priority, User selection Priority and Release Priority.

Overall scheme is shown as below: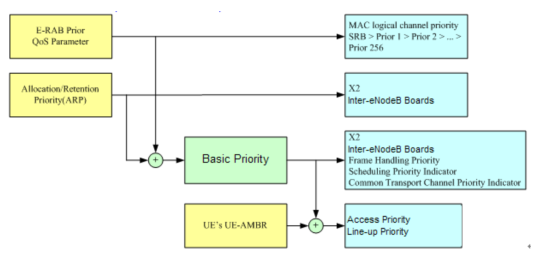 Priorities applied in RRM as:
2
Basic priority:

for mapping access priority, Line-up priority, User-selection priority and Release priority
2
Access priority:

for Access Control algorithm.
2
Line-up priority: for Congestion control and line-up sequence management.
2
User-selection priority: for Load balance handover user selection algorithm.
2
Release priority: for LDC to release traffics.