CA core technology is multiple continuous or discrete carrier together to a more wide spectrum provide service for UE
There is only one cell provide service for UE(single carrier),3GGP during in the CA,Site can use multiple carrier and provide service for one UE(our equipment only support two carrier at present).
The cell of UE access is primary cell, Other cell is subsidiary, primary cell and subsidiary cell can provide service for UE at the same time, but all signaling be transmit with primary cell.
The test site configuration and test equipment
The site versions:
V3.20.50.20P05
subframe configuration:2/7
Carrier configuration:20MHZ+20MHZ(band38)
Test terminal:9X30(Qualcomm chip)
4 CA function configuration
4.1
co
nfigure neighbor relation
Configure the two cell of physical same coverage to neighbor relation each other, modify Covershare
parameter to Same Coverage.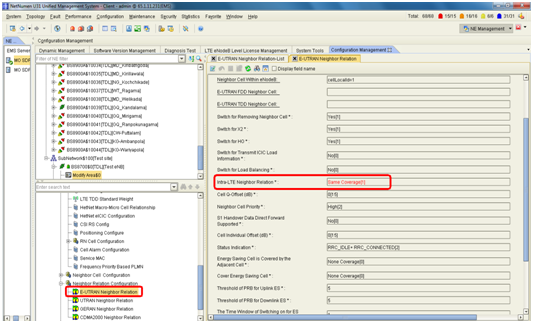 4.2 Configure Coordination Relation
The view of Configure coordination:: Configuration Management->Special Function of Standard->Cell Coordination Management
: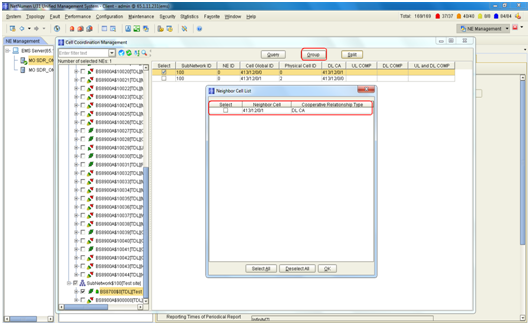 Query the configuration result of primary and subsidiary cell coordination relation. Cooperative Relation is Only DL CA Support.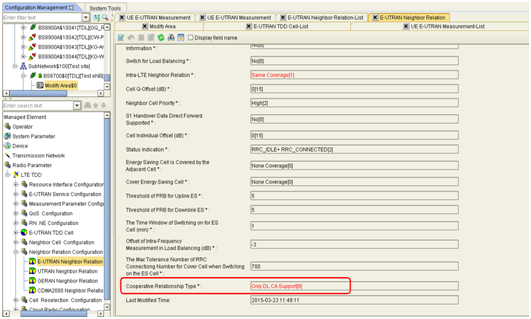 Remark : Core net need open the CA switch to support CA function.
5

CA strategy
5.1 add the Scell
Site only support CA for intra cell in one site and Pcell and Scell belong to same site at present.
There is two mode to add scell
Ⅰ
when we configure Covershare to Same Coverage or Containing ,the site initiative add Scell for UE after attach or hardover.
Ⅱ
when we configure Covershare to other value ,The site add Scell for UE after receive A4 report.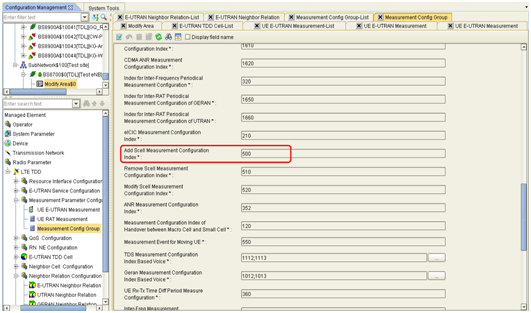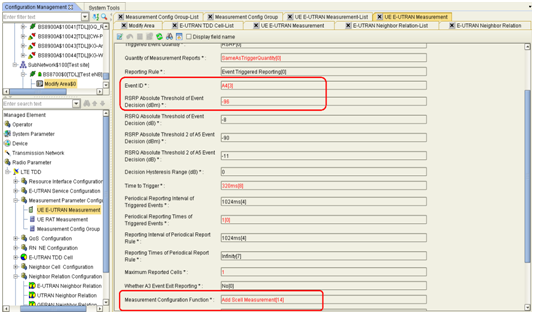 Layer 3 information (
RRC Connection Reconfiguration
)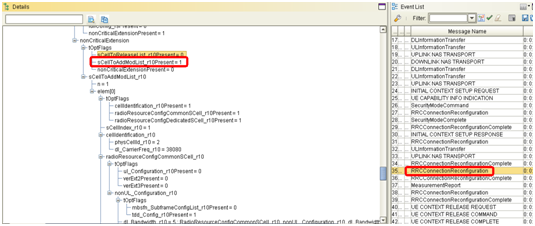 Layer 3 information (measurement report)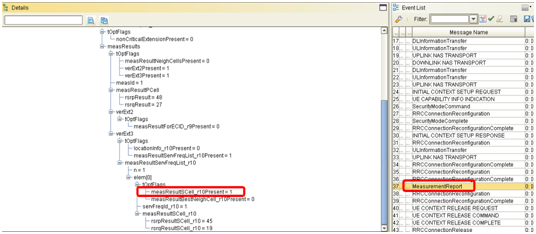 5.2 delete the Scell
The site will sent A2 event for the Scell when add some cell with Scell, the UE will report A2 event and site inform UE delete Scell by RRC Connection Reconfiguration when the RSRP of Scell less than threshold of A2.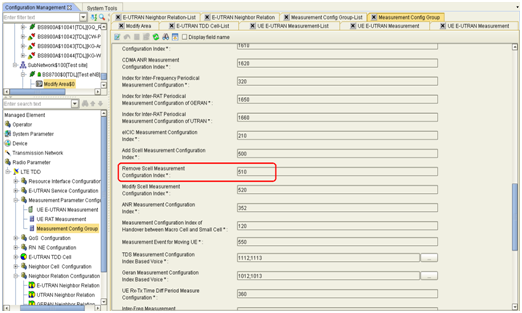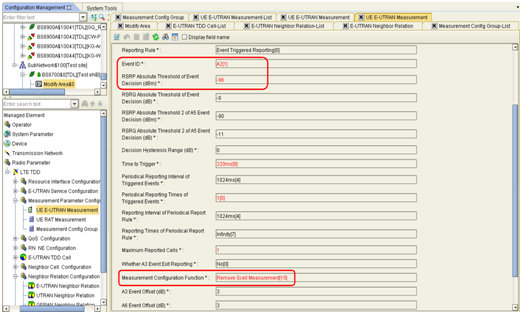 Layer 3 information ( RRC Connection Reconfiguration)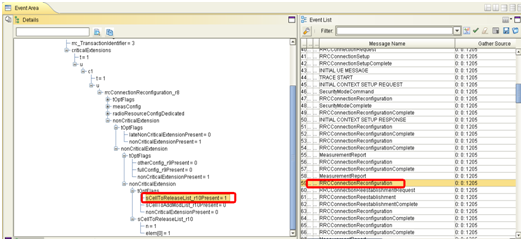 6

Active and deactive Scell
The UE received RRC Connection Reconfiguration of include Scell information, now Scell is deactive. The Scell be active when Pcell be using number of RB greater than some threshold. The Scell be deactive when Pcell be using number of RB less than some threshold.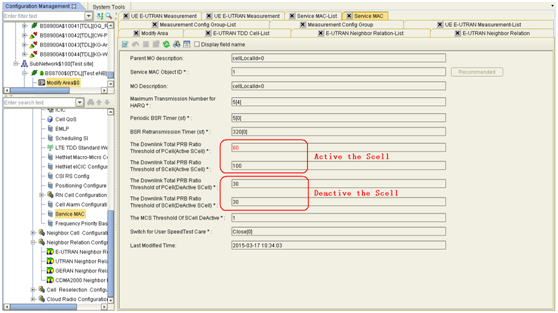 7 Test and problem
We configure the CA function for a test site in core room. But CA function has not been active and UE only used one cell.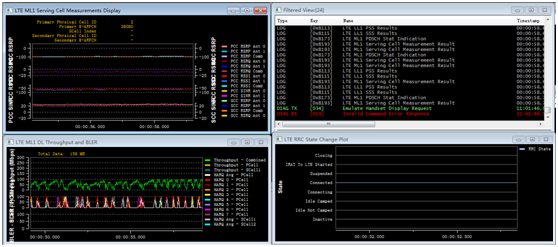 Find the layer 3 message, The UE did not receive the Scell information or A4 event from Site. So checked the neighbor relation, coordination relation, the threshold of A4, that is no problem.

Checked the carrier configuration(pcell carrier is 2585,Scell carrier is 2604)according to CA carrier configuration information of 3GGP.
The Scell carrier is 19MHZ greater than Pcell carrier, and difference value in between 18.3 and 19.8. But 19MHZ cannot be divided exactly by 300KHZ. The modified the Scell carrier to 2603 and to test. Test result same as last one.
Query the workmate of core net and he told me the Core Net should have a switch for CA function, then he check the CA switch and open it and CA function is working. Test picture as follow: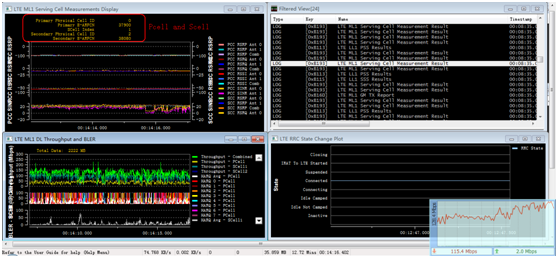 SUMMURAY
There is two important issues for the CA function testing:
1 Pcell carrier and Scell carrier must configure according to 3GGP, and the different value of two carrier can be divided exactly by 300KHZ .
2. The core net exist switch for CA function, and need open this switch.
3. The A2 threshold of delete Scell should not greater than the A4 threshold of add Scell, or else the site service to UE will occur abnormal when UE received RSRP between A2 threshold and A4 threshold.